We released a new version 1.4.0 of QuickEver –  the most fast Evernote memo iPhone app.
We have updated the user interface.
New Tool Menu
The tool menu is now hidden, and text input now has a larger usable area.
We have also added an option to automatically hide the tool menu just by clicking on it.
New Notebook&Tag Input View
Tapping the part that displays the upper notebook and tags displays the new notebook & tags view.
Also, swiping left will display only the notebook selection screen and swiping right displays only the tag selection screen.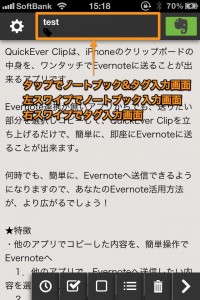 Error List View
We have also added a page to easily view all transmission errors.