Our new application "Quick News UK Free" is now on App Store.
Please cheak it on App Store.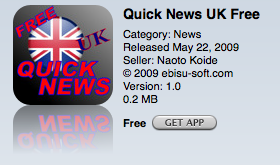 "Quick News UK" is an application with quick access to 8 of most popular U.K news sites formatted to fit iPhone / iPod touch.
You can access these sites very quickly from "QUICK MENU"!
>BBC
>The Guardian
>Times
>The Sun
>Mirror
>Reuters
>Google NEWS UK
>Telegraph
All of these sites are optimized for iPhone/iPod touch,so you can read news articles easy.